Nina Söderquist has been called "London's Music Age" and was praised by the world press for her success in London's West End, with the musical, SPAMALOT. Nina has toured with Björn Skifs (#1 US Billboard chart-topper, Blue Swede, "Hooked on a Feeling") and rocking arenas around the world, with several QUEEN tours.
During her 25 years in the industry, Nina has lived and worked all over the world. She started as an entertainer at Sunwing performing with dance bands, soul, jazz, pop and rock cover bands. Her big breakthrough came in autumn 2007 when she took the role of Lady of the Lake in TV3's hit show, "West End Star." She moved to London to play the lead in Monthy Python's musical "Spamalot" – the biggest role played by a Swedish performer in the West End, for a very long time. Meatloaf and Phil Collins are just some of the world stars who have praised her over 500 performances.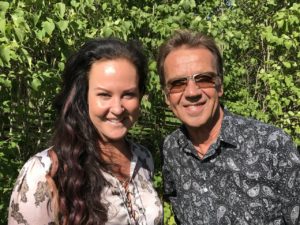 Now, Nina Soderquist and Bjorn Skifs have released their stunningly epic duet, "Goodbye."  The song, written by Soderquist, is being promoted by MTS Management Group to US radio and worldwide press.  The song is available on Spotify at https://open.spotify.com/track/35Fm1tlKEL7VYYo4luVI3h.
You can hear Nina as a radio actor on the channel "ROCK CLASSICS," and soon you'll see her rocking in the show "ROCK THE NIGHT," together with Kee Marcello (Europe, "The Final Countdown,) John Boding & Stefan Odelberg.
https://www.facebook.com/ninasoderquistofficial/
https://en.wikipedia.org/wiki/Nina_S%C3%B6derquist
https://www.ninasoderquist.com/